CAR-2-EUROPE PEUGEOT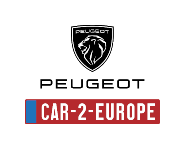 ALL ABOUT CAR-2-EUROPE PEUGEOT LEASING
Your ultimate self-drive European holiday is now a reality with globalCARS & Car-2-Europe Peugeot. Discover each breathtaking sight and experience Europe in style and at your own leisure in a Tax-free Peugeot European Holiday Lease. Your chosen vehicle comes with a full factory warranty, inclusive insurance with no excess and no hidden extras. The extensive insurance permits you to drive through 40+ European countries hassle-free.
The Car-2-Europe Peugeot program allows you the opportunity to take temporary ownership of the latest Peugeot model, registered in your name for duration between 21 and 175 days (90 days for all travel into Portugal). At the end of your contract period, simply return the vehicle to one of the 25+ Peugeot locations dotted across Europe. There are no additional fees if the vehicle is collected and/or returned to France. For locations outside France, an additional charge may apply.
YOUR CAR-2-EUROPE PEUGEOT LEASE INCLUDES:
A brand new left-hand drive Peugeot vehicle
Unlimited kilometres
All vehicles equipped with ABS, Airbags, Anti-theft, Central Locking, Electric Windows and Power Steering
Full Vehicle Insurance cover including third party liability and theft protection
No Insurance Excess
Full factory warranty
24/7 Assistance whilst leasing
The minimum driver age is 18 years with a Full Australian Driving License (no maximum driver age).
No extra driver charges (conditions apply)
No airport supplements
Pick up & drop off in more than 25 locations across France and Europe
DO I QUALIFY?
You must reside outside of the European Union
Stay in the European Union for no more than 185 days in any consecutive 12 month period
Not carry out any paid activity during your stay (no working visas)
Be an Australian resident
MORE BENEFITS
You don't have to wait in long queues to collect or return your vehicle.
Expert advice and support before, during and after your holiday.
No hefty fuel surcharges when you forget to return your car full of fuel (you should return it empty).
All paperwork is done in Australia without the pressure and time restraints you have when queuing at a rental car desk off a long flight
You will receive comprehensive documentation before you leave Australia with collection/return location instructions, a driving tips booklet and more.
YOUR VEHICLE IS COVERED BY INSURANCE & ASSISTANCE IN OVER 40 EUROPEAN COUNTRIES:
Andorra, Austria, Belgium, Bosnia and Herzegovina, Bulgaria, Croatia, Cyprus (Greek Territory only)~, Czech Republic, Denmark, Estonia, Finland, France (including Corsica), Germany, Gibraltar, Greece (excludes Crete and Greek Islands), Hungary, Iceland, Ireland, Italy (including Sicily and Sardinia), Latvia, Liechtenstein, Lithuania, Luxembourg, Macedonia, Malta, Monaco, Montenegro, Netherlands, Norway, Poland, Portugal (including Azores and Madeira), Romania, San Marino, Serbia*, Slovakia, Slovenia, Spain (including Balearic and Canary Islands), Sweden, Switzerland and the Vatican.
~The cover of insurance provided for Cyprus is limited to the geographical parts of Cyprus which are under control of the government of the Republic of Cyprus. *The cover of insurance provided for Serbia is limited to the Republic of Montenegro and the geographical parts of Serbia which are under control of the government of the Republic of Serbia.
Travel is not permitted into the following countries: Albania, Algeria, Belarus, Israel, Iran, Kosovo, Moldova, Morocco, Russia, Tunisia, Turkey, Ukraine, United Kingdom and the Greek Islands. Travel to these countries is at the lessees risk and is not covered by the Peugeot insurance or Peugeot assistance.
BOOKING YOUR CAR-2-EUROPE PEUGEOT LEASE
Book your Car-2-Europe Peugeot Lease by completing the search form above or by calling 1300 789 992 and chatting to your globalCARS Car Lease expert to secure the best deal.