The Peugeot 308SW Compact Wagon
The Peugeot 308SW Wagon makes all journeys, from short daily chores to epic holiday adventures, completely carefree and fun. Discover a new type of comfort. The Peugeot i-Cockpit® philosophy centres around a driving environment that puts you in control, allowing a greater connection to the road. Elements key to this are the compact multi-function steering wheel that gives a heightened sense of agility, a head-up instrument panel that places key information closer to the road and the 9.7" capacitive touchscreen with smartphone levels of responsiveness.
The high-tech technology gives the 308SW excellent road handling for a perfect driving experience. The suspension and tyres are designed to reflect either Blue HDi or PureTech engines for greater efficiency and optimal comfort.
The 308SW comes standard with a built in GPS, helping you navigate Europe's highways and byways with ease.
Book your vehicle today by calling globalCARS or book online.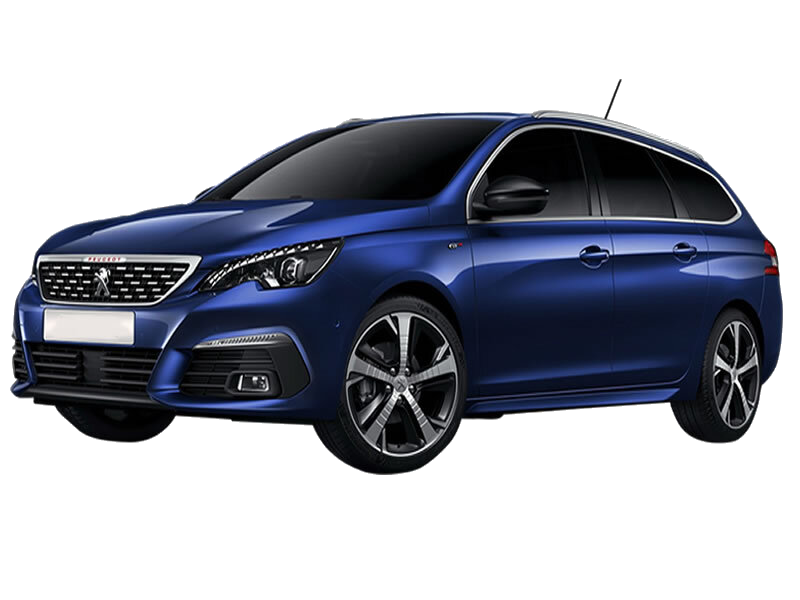 Other key information:
Similar Models:
Toyota Corolla SW, Subaru Liberty, Hyundai i30 Tourer
Occupants:
Seats 5,
but ideal for a family of 4-5, or 4-5 adults
Recommended luggage:
1 large + 3 medium + 1 small (610 VDA litres)
Vehicle dimensions
(incl outside mirrors)
4.58m long x 2.04 wide
Boot size
(under luggage cover)
0.71m high x 1.07m deep x 1.08m wide
Vehicle specifications
Detailed Peugeot 308SW Model Specifications
x5

x5

Diesel or Petrol

Manual or Auto

GPS

Aircon

x1

x3

x1
Note: All vehicle images & photographs used are only a general indication of your selected model.