The DS3 Crossback Compact Luxury
All-new French crossover offers loads of tech and polarising design.
The all new DS3 Crossback, a compact pseudo-SUV replacement for the DS3 hatchback. Rather than directly replacing the three-door hatch, this new model has gained a pair of rear doors and a few extra inches of body height, but size-wise is smaller than premium compact SUV rivals such as the Audi Q2 and BMW X2.
Inside, the quirkiness continues, with DS's signature diamond motif continued in the switchgear and air vents. Atop the upholstered dash is a wide 10.3-inch infotainment screen, while in front of the driver sits a compact speedometer, topped with a head-up display.
DS pitches its smallest crossover model as "both a city car and a long-distance road car", touting the vehicle's high levels of available tech and "unequalled acoustic excellence".
The DS3 Crossback comes with a USB port / AUX plug and a built in GPS, helping you navigate Europe's highways and byways with ease.
Book your vehicle today by calling globalCARS or book online.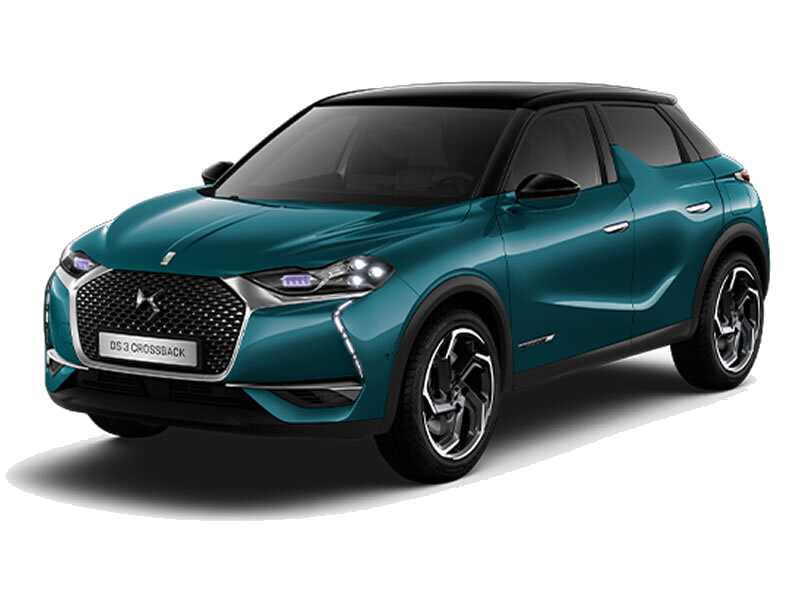 Other key information:
Similar Models:
Mini Countryman, Audi Q2
Occupants:
2 adults + 1-2 children, or 2-3 adults
Recommended luggage:
2 Large + 1 medium + 1 small (352 VDA litres)
Vehicle dimensions
(incl outside mirrors)
4.18 m long x 1.79 m wide x 1.53 m high
Boot size
(under luggage cover)
555L
Vehicle specifications
Detailed DS3 Crossback Model Specifications
x4

x5

Diesel or Petrol

Manual or Auto

GPS

Aircon
Note: All vehicle images & photographs used are only a general indication of your selected model.