The Citroën C3 Aircross Compact SUV
A compact crossover. Mixing off-roader styling with tons of practicality and a somewhat frugal drivetrain makes for one very appealing package, perfect for Touring Europe.
No modern crossover would be complete without a large selection of technology at hand. To that end, the Citroën C3 Aircross Compact SUV gets 12 driver assist systems included, such as a color heads-up display and four connectivity features. The cabin space utilizes a design that was inspired by furniture and fashion.
Dimensionally speaking, the Citroën C3 Aircross Compact SUV is the "most spacious and modular SUV in the compact segment" thanks to an impressive ceiling height and lots of legroom. Per crossover tradition, passengers get to enjoy a raised seating position, with the sense of interior space enhanced by a horizontal design scheme.
Storage for cargo and other knick-knacks is ample, especially in the right configuration. For example, the rear bench slides in two independent pieces with a 60/40 split, while the passenger seat folds flat to expand load length to 2.4 meters (94.5 inches) total. Up to 520 liters (18.4 cubic feet) of cargo room is offered, which means the Citroën C3 Aircross Compact SUV offers the largest trunk space in its segment, particularly useful considering the flat load floor with the rear bench down.
The C3 Aircross comes standard with a built in GPS, helping you navigate Europe's highways and byways with ease.
Book your vehicle today by calling globalCARS or book online.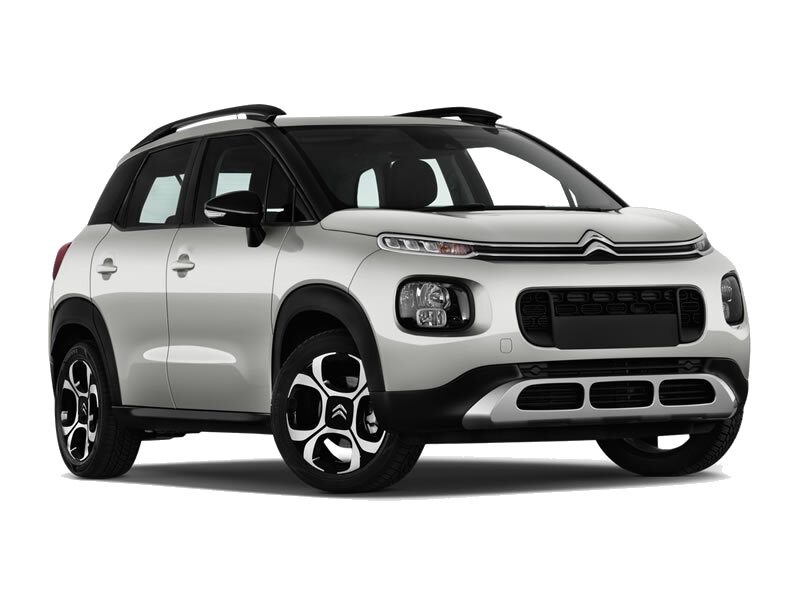 Other key information:
Similar Models:
Peugeot 2008, Dacia Duster, Nissan Juke, Renault Captur.
Occupants:
2 adults + 1-2 children, or 3 adults
Recommended luggage:
2 large + 2 medium + 0 Small
Vehicle dimensions
(incl outside mirrors)
4.16m long x 1.76m wide x 1.64m high
Boot size
(under luggage cover)
410L
Vehicle specifications
Detailed Citroën C3 Aircross Model Specifications
x5

x4

Petrol or Diesel

Manual or Auto

x2

x1

x1
Note: All vehicle images & photographs used are only a general indication of your selected model.